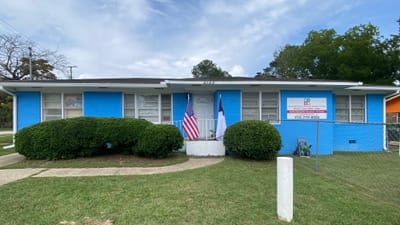 Kid Stars Rising Christian Learning Academy
is committed to providing its students with academic resources that cater to the whole child: academically, socially, physically, and spiritually.
Kid Stars Rising Christian Learning Center
is a private school for students in prekindergarten (4-years old) up to twelfth grade (2023-2024).
Kid Stars Rising Christian Learning Academy is open between the hours of 7:30 a.m. and 6:00 p.m. Before school care operates from 7:30 a.m. to 8:00 a.m. The regular academic school day operates from 8:00 a.m. to 2:30 p.m. After school care is available from 2:30 p.m. to 6:00 p.m.
At the middle and high school location, the school day will operate from 8:00 a.m. to 3:30 p.m. After school care is available from 3:30 p.m.-5:00 p.m. at 2122 Hope Mills Road. Parents can elect any or all of these services depending on their child(ren)'s needs.
Parents will need to transport their children to Kid Stars Rising Christian Learning Center for the before school care service
.
The academic school year 2023-2024 will begin on
Tuesday, September 5, 2023
with open enrollment throughout the year as space permits! Our small class sizes provide the opportunity for students to receive the differentiated/small group instruction on the academic level that suits their individual needs.
We also have the capacity to offer virtual/online instruction to those families who feel safer at home.
We love children and will be thrilled to have your child(ren) become a part of the Kid Stars Rising Family!
Kid Stars Rising Christian Learning Academy
aims to provide its students with a rigorous and holistic academic education, which includes instilling morals and character development by teaching them what it means to be a disciple of Jesus Christ. Using the ABEKA curriculum and other traditional and digital resources, highly qualified staff will ensure daily that students engage in hands-on activities, and a well-rounded curriculum that entails reading, math, science, social studies, technology, art, music, physical education, Bible Study, Spanish, and relevant field trips.
Early enrollment is available and will be open throughout the year as spaces permit. Please contact one of our friendly staff members who will assist you with any questions or concerns at his or her respective email address:
Dr. Sharonne Simmons- Principal/Director -
ssimmons@kidstarsrisingacademy.com
David Simmons - Associate Principal/Co-Director
-dsimmons@kidstarsrisingacademy.com
Open House for our students in prekindergarten - 12th grade will take place on Thursday, August 31, 2023, from 3:30 pm - 6:30 pm at the child's respective school
.
More information will be provided for each location's actual time
. This will afford parents the opportunity to take a tour of our facilities and meet your child's teacher before the official start of school. We look forward to our parents partnering with us and having an active voice in the school's future moving forward.
Why choose Kid Stars Rising Christian Learning Academy?
Very affordable and competitive tuition rates (prorated for partial enrollment).
Low registration fee (discounted for multiple enrollments).
North Carolina Opportunity Scholarship and ESA+ (Disability Grants and Education Savings Account) programs participant.
Pending administration approval, a virtual/asynchronous learning option is available if the need arises.
BSAC (Basic School-Age Care) certified staff members.
CPR/First Aid certified staff members.
A personal and nurturing Christian educational environment.
Experienced/state-certified owner along with certified & highly qualified teachers who provide differentiated instruction for students who need extra assistance.
Research-based and highly effective ABEKA curriculum and other curricular resources.
Class Dojo Communication Platform.
One-to-one technology device for students in grades 1-12.
Nutritious snacks offered daily.
Before and after school care available for the students of Kid Stars Rising Christian Learning Academy.
STARS Mentorship Program. Students in grades 2-12 discuss Biblical principles and scenarios that can prepare them for life's challenges.
Summer tutoring program available from June until August for students in kindergarten up to eighth grade.
Bible Summer Camp available for students in prekindergarten-twelfth grade. Bible Camp will be available each year from June to August each year. During this time, students will participate in Bible-themed arts and crafts, learn memory verses, and attend several field trips.
STATEMENT OF FAITH
We believe in GOD the Trinity (Father, Son, and Holy Spirit) according to Matthew 28:19, and its importance in the training of true discipleship for all mankind. We believe the Bible to be the true and unwavering Word of God according to 2 Timothy 3:16-17. We believe in the Death, Burial, and Resurrection of Jesus Christ our LORD. We believe that the Holy Spirit is alive and is the guiding force of all today's believers.
OUR VISION
Kid Stars Rising Christian Learning Academy
is dedicated to providing learners with a holistic education that values academics, diversity and moral character and prepares them to successfully compete in a global world.
OUR MISSION
Kid Stars Rising Christian Learning Academy c
ommissions its students to grow academically, socially, physically, and spiritually in order to become lifelong learners in an environment where high academic achievement and Christian character are the top priorities in their lives inside and outside of the classroom.